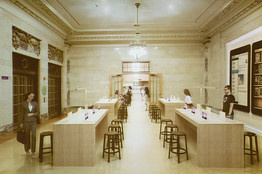 The MTA has showed off a rendering of the proposed tore in Grand Central, which is expected to be approved today.
If approved, Apple will begin building immediately and have construction completed by December.
Apple bought out the space currently rented by Charlie Palmer's Metrazur restaurant for $5 million, ensuring Palmer breaks his lease 8 years early.
The MTA says Apple will pay $1.1 million rent per year, a significantly higher amount than Metrazur which was paying $263,997.
Besides the space in the east balcony, Apple will take the vacant, adjacent balcony, as well. Overall, the company will occupy 23,000 square feet, making Grand Central its 3rd largest store.
Finally, the Authority also noted that popular hamburger joint Shake Shack would be moving into Grand Central, says the
WSJ
.